Add Offshore Sailing School at Scrub Island to your Bucket List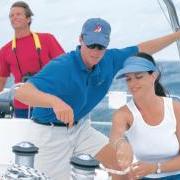 Everyone has a bucket list. It doesn't matter how old or how young you are. We all have dreams and aspirations (and plenty of people to impress on our social media channels). For true adventure-seekers, sailing around the British Virgin Islands is a must-see, must-experience box on their bucket list, waiting to be checked off.
From first time sailors to experienced captains, when it comes to sailing in the B.V.I., the Caribbean ocean provides the beauty of crystal clear waters and dazzling islands, while inviting you to open up your mainsails and let the trade winds fill your soul. Scrub Island Resort, Spa & Marina welcomes all sailors (and aspiring to be sailors) to one of the best sailing destinations in the world. It doesn't matter if you are a first-timer, hoping to get your sea legs and learning the basics of navigation, or if you are an experienced salty sea dog, ready to sharpen your skills by taking them to the next level or a competitive sailor preparing for your next regatta. Scrub Island is the perfect place for any sailor to be educated while experiencing the ultimate sailing vacation in the B.V.I.
Conveniently located at the Marina on Scrub Island Resort is the Offshore Sailing School, America's number one sailing school. That's right it's not a typo, number one! For more than 50 years, award-winning educators Steve and Doris Colgate, have been teaching novice and experienced sailors the ins and outs of how to enjoy all the fun and adventures of the sailing lifestyle while navigating through the lucid waters of the B.V.I. Their dedication, attention to detail and passion for sailing is what sets them above and beyond all of their competition. Lucky for you, their training location sits brilliantly on our luxurious private island, making our resort a unique and premier travel destination for all sailors in the Caribbean and worldwide. The Colgates have had more than 130,000 graduates come through their doors since 1964 and continue to expand and teach sailors how to navigate with confidence through the open waters all over the world. Offshore Sailing School.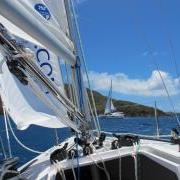 It doesn't matter how experienced you are, the Offshore Sailing School has plenty of training options. They can educate first time sailors interested in learning how to sail, refresh rusty skills with a few sailing lessons and for those planning a team-building trip of a lifetime, the Offshore Sailing School at Scrub Island Resort, Spa & Marina is without a doubt the best (and most beautiful) place in the world to learn!
The Offshore Sailing School offers various classes and programs which you can find through our website online by clicking HERE. Guests staying at our resort can take multi-level sailing classes, which include learning how to sail, cruise, race, and passage making. They also offer powerboat courses, team building and leadership classes and lastly you can also get your sailing certifications and powerboat certifications all while conveniently enjoying the luxury of staying at our private island resort. Maybe it is finally time to pull out that dusty bucket list and plan a vacation getaway that will become a life-changing adventure, as you gain lifelong skills and confidence you can apply on and off the water. There couldn't be a better time to chart a new course. While a ship might be safe in a harbor, that's not what ships were made for.
Wishing you fair winds and following seas! Kat