Bring a Book to Scrub Island Resort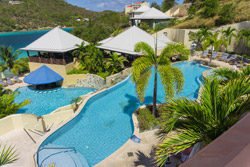 Some people escape to Scrub Island Resort, Spa & Marina knowing that they can relax and recharge during their vacation getaway on their very own luxurious private island.
During my journey to Scrub Island I met a very kind lady named Joanna. Joanna is a big time executive in New York City who had heard about Scrub Island and the thought of escaping the hustle and bustle of the noisy big apple was appealing to her as she was looking to escape somewhere not only warm and tropical but also quiet and relaxing.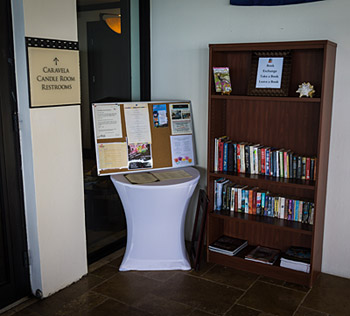 While chatting with Joanna by the pool, I asked her what was one of her favorite things about visiting Scrub Island Resort. Usually people reply with answers like, the amazing pool that overlooks the crystal-clear waters, or all the ocean activities like kayaking to Honeymoon Beach, or the fresh seafood served daily, or all the different private beaches. Joanna had a different reply that I found very interesting. She answered, "Honestly, I love to read. There are so many wonderful, quiet places to read. I also noticed when I walked up to Caravela the other night there was a huge shelf that housed a book share. Take one, leave one. What a great and unique amenity for people like me who love to curl up and get lost in a book."
I had honestly walked past that book shelf a hundred times that week and when I left the pool I decided to stop and take a look. Joanna was right. There were great books that people had left for other people to read. Books for all ages. Everything from Sci Fi, to steamy romance novels to kids books. I sat and thought to myself how cool it was. Imagine reading a book that someone left from the United Kingdom, from California, from somewhere halfway around the world. Pretty amazing right?
Anyways, if you are looking for the book share shelf it is located upstairs outside of the main entrance to Caravela.
As far as quiet places to read. Here are my top 5 best places to get lost in your book at Scrub Island Resort: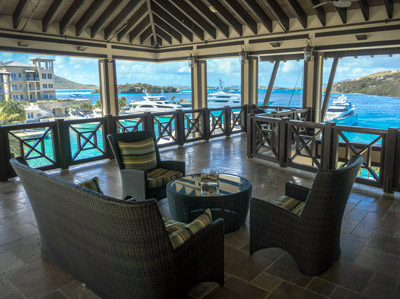 1. North Beach: Grab one of the huts with the shade that face the sapphire blue waters and plan to read all day, until the sun goes down.
2. Honeymoon Beach: You will have to kayak or paddle board there, so make sure your book stays dry. There's a great elevated deck with a chair overlooking the perfect view and a great place to catch some sun and enjoy your favorite book.
3. Upstairs by the Pool: The chairs are padded and super comfortable and when the sun gets a little too hot and you need to cool off, you can take a quick dip.
4. Marina Docks: There's some great chairs under umbrellas right along the docks outside of the market that make for great spots for reading towards the end of the day when the sun is going down and the breeze kicks up.
3. Above the Lobby area, outside of Caravela: Unwind in this quiet and shaded oasis that overlooks the entire resort with comfortable outdoor sofas and chairs. Also conveniently located right beside the book share shelf.
Insider Fact: Sometimes it's important to realize what you won't hear at Scrub Island… the BVI doesn't allow any motorized personal watercraft, so our beaches and coastlines are free from the incessant noise of jet skis, wave runners and the like!