Easy Breezy Breakfast at Caravela
They say the key to having a successful start to an adventurous day is a well-rounded breakfast. Caravela serves up just that and more! When we vacationed at Scrub Island Resort Spa & Marina one of our favorite meals was breakfast overlooking the crystal-clear Caribbean waters and the Marina at Caravela Restaurant every morning. So, plan to hop out of bed and walk over to relish one of the most delicious breakfasts in the BVI.
Easy Breezy Beautiful
It doesn't matter what the temperature is, the trade winds are constant throughout the morning and with dining options inside and out, there are delightful choices of where you would want to sit and fuel up for the day. As for the menu, there are about 16 different breakfast options, and during the week we were there, we tried a little bit of everything (including the mimosas). And I must say that everything we had was divine! One dish I absolutely had to order twice, because it was so delicious (and filling!), was the Breakfast Croissant.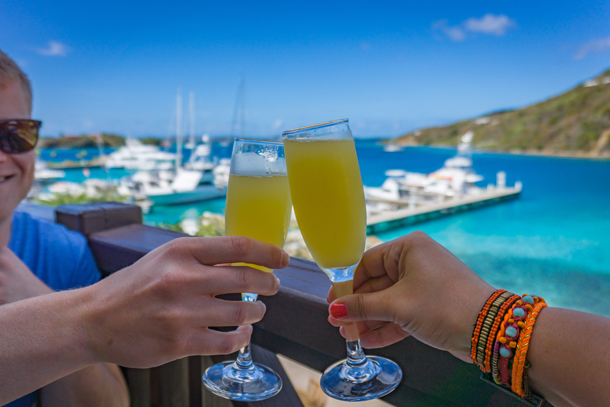 Morning Mimosas
I mentioned mimosas earlier. Take my advice and don't skip these! Just remember, they pour on the heavy-side in the BVI so, sip slowly… or don't, you're on vacation; the choice is yours! You'll want to stop, take a minute and look at that view. It's absolutely breathtaking and "bubbles" make it all the more spectacular!
Divine Dishes
One of my favorite dishes was the ! This scrumptious croissant is warmed to perfection and comes lightly toasted with fluffy scrambled eggs, cheddar cheese and thick-cut bacon all served with a side of hearty breakfast potatoes. A fun fact about the croissants made at Scrub Island Resort is there is a baker in-house who makes all the breads and pastries daily. He is a skilled artist and king of all things baked, flaky and fresh!
Insider Tip: If you're lucky you can catch a magical whiff of the daily baking ritual around 3 p.m. down by the Gourmet Market & Cafe in Marina Village.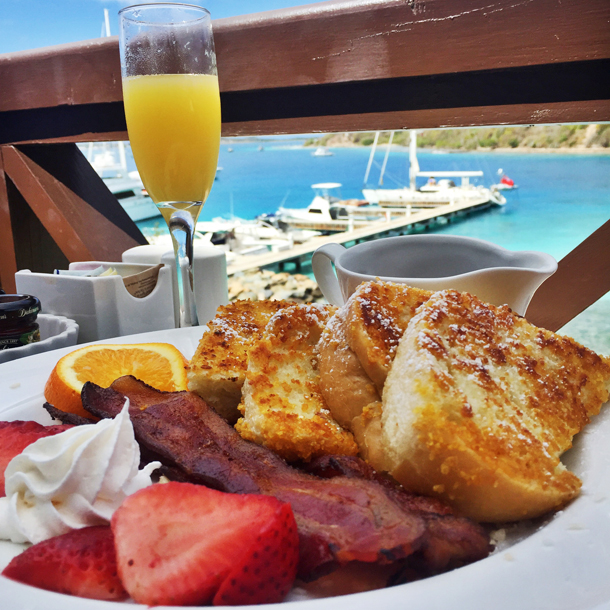 Another popular (and tasty) choice is the which sounds like a kid's dish, but the portion would suggest otherwise. This adult-sized breakfast showcases thick slices of french toast prepared with almonds and corn flakes, served with maple syrup and your choice of crispy bacon or spicy sausage. My third choice is the . Two poached eggs perfectly balanced on an English muffin with Canadian bacon or smoked salmon, drizzled with a creamy Hollandaise sauce and served with crunchy breakfast potatoes… a classic!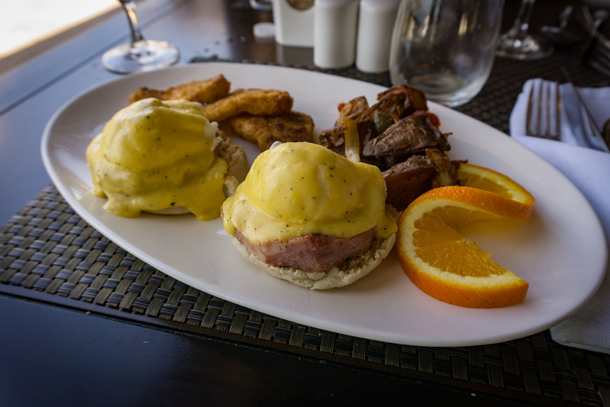 It doesn't matter what you're craving. Caravela has it – including an amazing breakfast, a bubbly morning cocktail, or an awe-inspiring view! Did I mention breakfast is the most important meal of the day?