Exclusive Interview with VIPY Style & Beauty Editor, Pearlette Wintz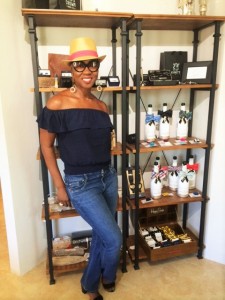 When it comes to mixing fashion and passion, VIPY Style & Beauty Editor Pearlette Wintz takes the cake. Born in the BVI, left to establish roots in the US, and has now returned "home" to the BVI to focus on style, beauty and fashion. From what's hot, to what's not—she's your go-to girl when it comes to keeping your style fresh in the BVI and beyond.
We were lucky enough to catch up with Pearlette and asked her to spill her beauty secrets, what's "in," what classics never go out of style — and the true definition of Caribbean Casual.
What was it like returning home to the BVI? What were your biggest influences in deciding to move back from Texas?
Pearlette: "I have never really considered the BVI to be "home." We left when I was very young. But, I did have many enjoyable summers here with my grandparents, cousins and a host of other relatives. The biggest influence in my decision to move to Tortola was the desire to give back to a community that played a huge role in my development. I wouldn't be the person I am today without the influence of my grandmother."
What's the most unique thing about style and beauty in the BVI?
Pearlette: "Fashion and personal style are really starting to be appreciated and desired by more people. I see this as an expression of modernity and a reflection of change. So to me, the desire for change is the most unique thing about style and beauty here in the BVI."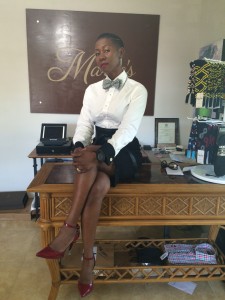 What's the biggest challenge facing the style and beauty scene in the BVI?
Pearlette: "Availability of a wider variety of quality merchandise at various price points." 
What are your favorite retail spots in the BVI? Do you prefer certain shops for specific product types or fashion lines?
Pearlette: "My favorite retailers are: Taino, Arawak, Zenaida and Marco's.
Taino for beautiful, unique jewelry and handbags, Arawak and Zenaida for linen/cotton pieces, Marco's for custom shirts, belts, watches, ties, cufflinks – I love wearing bowties and French cuffed shirts."
How would you define Caribbean Casual?
Pearlette: "Airy, light-weight, breathable, tailored pieces."
What's your go-to Caribbean Casual outfit (for men or women)? 
Pearlette: "For men, tailored shorts, long sleeved tailored linen/cotton shirt, and Satorisan Soumei leather slip-ons. My go-to look is an off-the-shoulder top, linen pants or a long skirt with wedges or Birkenstocks."
What clothes always stay in style? 
Pearlette: "The classics – sheath dresses, ankle length pants, pencil skirts, button down tailored shirts, loafers."
What's your must-have beauty product? 
Pearlette: "Shea Butter…and sunglasses."
What's the best advice you've ever received while being an entrepreneur?
Pearlette: "Understand your motivation for going into business, read/learn as much as you can before taking the plunge, understand the target clientele, understand finances and find a good accountant."
Who has inspired you during your journey to where you've come today?
Pearlette: My grandmother, Beryl Malone Turnbull.
Stay tuned for more from Pearlette Wintz and VIPY Style & Beauty coming soon to Virgin Islands Property & Yacht Magazine.