Friday Sushi Night "Rolling" Out at Caravela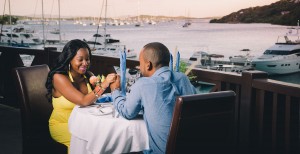 Caravela Restaurant located on Scrub Island Resort, Spa & Marina is excited to announce Sushi Night every Friday evening. With breathtaking views overlooking the marina and neighboring British Virgin Islands, guests are encouraged to relax and take in the carefully crafted culinary experience of our private island resort.
Friday's Sushi Nights will feature a vast selection of fresh sushi rolls created in-house by our resort's very skilled culinary team.
Sashimi Delight: Sliced "A" Grade Saku Tuna with Wakame, Fresh Pickled Ginger, Wasabi & Soy Sauce
Vegetable Tempura Roll:
Lightly Tempura Fried Asparagus, Yellow Squash, Rolled & Topped with Tempura Fried Zucchini & Sweet Soy Sauce
Lobster Shrimp Roll
Lobster Crab Mix, Cucumber, Avocado Rolled & Topped with Shrimp, Served with Asian Pesto Sauce
Sassy Salmon Roll
Smoked Salmon, Mango, Cream Cheese Rolled & Topped with Avocado, Cashew & Drizzled with Spicy Mango Sauce
California Maki Roll
Crabstick, Mango, Cucumber, Mayo & Tobiko
Spicy Tuna Roll
Served with Garlic Sriracha Aioli
Cloudy Roll
Cream Cheese, Cucumber, Julienne Red Pepper Topped with Smoked Salmon
Deluxe Rainbow Roll
Spicy Salmon, Avocado Crunch with Masago & Sesame
Semirainbow Roll
Spicy Tuna, Avocado Crunch with Masago & Sesame
Mango Bloom Roll
Prawn Tempura, Cucumber & Mayo Topped with Mango
Hawaiian Roll
Tuna, Salmon & Pineapple with Ponzu Chili Sauce
Phoenix Roll
Crab Meat, Cucumber, Avocado & Masago
To check out the new menu and look at other dining options at Scrub Island Resort, Spa & Marina click here.