How You Can Make Your Trophy Catch Into Unique Art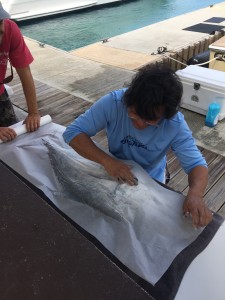 A day out on the Ruckus will not only yield some brag-worthy trophy catches, but it can also be a great opportunity to bring home a brag-worthy art piece.
Imagine catching the largest fish ever and wanting to display your catch for many years to come. To do so, we don't think bagging up the fish and bringing it in your carry-on would be welcomed by nearby travelers sitting next to you. We do in fact have another, less cringe-worthy solution.
Scrub Island Resort, Spa & Marina now offers guests a chance to bring their freshly caught fish back to the marina docks and create gorgeous one-of-a-kind souvenirs. After a day out on the water with Ruckus, guests are greeted at our docks and their fish are prepped for the printmaking process. Once the fish is slathered with ink, it's then pressed firmly on rice paper to create a beautiful and unique print to bring home for years and years of memories.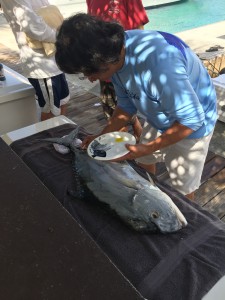 While this is a new offering at Scrub Island Resort, Spa & Marina, the art of this kind of printmaking actually dates back to Japanese fishermen hundreds of years ago. Without the use of modern technology or cameras, these fishermen wanted a way to document their trophy catches for others to see. This new art became known as Gyotaku. Gyo means fish and Taku means impression, and this technique of printmaking is exactly that — using your fish to make inky impressions on paper. The fisherman would take sumi-rice paper, ink and brushes with them out to sea, and when they had a fish worth bragging about, they would rub their fish with a non-toxic sumi-e ink on rice paper and bring it home for all to see. By the mid-1800s, this unique art form started rising in popularity and fisherman started focusing on other embellishments and details of their art pieces.
Interested on learning more about Ruckus?  Read my blog here!
We've revived this beautiful art form as a way for our guests to create lasting memories of their day fishing on Ruckus in the beautiful waters of the BVI. To book your Ruckus experience and immortalize your catch; please contact the Scrub Island Resort Concierge at (284) 394-3440.