New Menu at Caravela Restaurant & Bar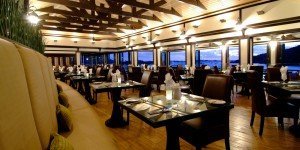 Just as the tides and currents change, so do the menus and the fine cuisine at Caravela. We're always on the lookout for the freshest local and imported ingredients to keep guests excited and refreshed about our signature restaurant's modern Caribbean cuisine with an American twist.
Scrub Island's culinary team is excited to announce their new dinner menu at Caravela! Here's a quick taste at what you can expect …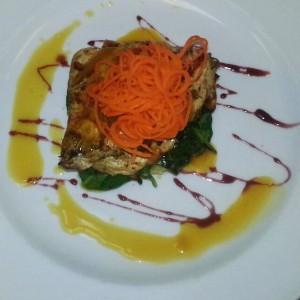 As for appetizers, a few of my personal favorites are the Tuna Tataki, Jerk Pork Brochettes and the Conch Fritters. The Tuna Tataki features a fresh sesame crusted tuna, wakame and ginger dressing. It's light, refreshing and the perfect dish to cool off with after a hot day in the sun. The Jerk Pork Brochettes comes with a delicious apple salsa, carrot and cucumber salad. This dish is savory, sweet and flavorful.
Salads are always a hit, especially when you pile on the perfect flavor combinations. Choose between three delicious choices: Caprese Salad, Tangy Pear & Blue Cheese Salad and the Apple & Goat Cheese Salad. The Caprese is a classic and favorite to many, the salad you know and love. The Tangy Pear & Blue Cheese Salad speaks true to its name, the sliced pears, crumbled blue cheese, roasted walnuts over mixed greens and drizzled with a honey balsamic vinaigrette is tangy and savory. The Apple & Goat Cheese Salad is topped with crisp Granny Smith apples, fresh strawberries, goat cheese on a bed of baby lettuce and tossed with a raspberry vinaigrette. You had me at strawberries and goat cheese …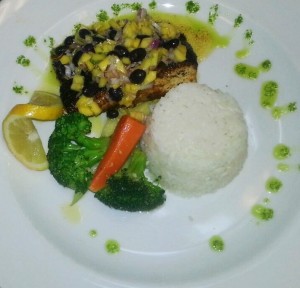 Let's not forget about the famous Caravela entrees! Have your pick between many options like the Prime Cut Rib Eye Steak, Filet Mignon, Rack of Lamb, Seafood Linguini, Spiced Chicken, Meat Stuffed Salmon and Blackened Mahi-Mahi. The Prime Cut Rib Eye is a popular choice for many and is served with red bliss potatoes, fresh broccoli and topped with a garlic herb butter. The Filet Mignon comes with butter whipped mashed potatoes, grilled asparagus and a savory blue cheese demi glaze. The Rack of Lamb is served with a wholesome wild rice, herby rosemary sauce and fresh vegetable medley. The Seafood Linguini comes with Sautéed shrimps, scallops, fresh fish, mussels and a creamy herbed sauce. The Spiced Chicken is grilled chicken with a unique Caribbean citrus mango sauce, mashed potatoes and sautéed fresh spinach. The Crab Meat Stuffed Salmon sits under a mushroom risotto with a light cream sauce and fresh sautéed vegetables. Lastly, the Blackened Mahi-Mahi is served with a delicious mango and black bean salsa, Jasmine rice and fresh vegetable medley.
Hungry yet? We thought so! Dig into the new Caravela menu here.
Whether you're looking for gourmet or casual, you'll discover delightful Caribbean staples while dining at any of Scrub Island's restaurants.