Plan a Gourmet Night "In"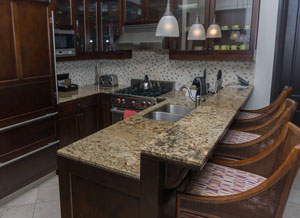 In my last blog I talked about all the reasons why it was worth it to upgrade to a suite while staying at Scrub Island Resort. One of my favorite amenities is without a doubt the gourmet kitchen. Our suite's kitchen was fully decked out with all the latest and greatest appliances, cooking utensils, pots and pans to forks, knives and spoons to even a vegetable peeler. With that kind of set up you can whip up a fancy semi-homemade meal in no time.
Why would I want to cook ON vacation you ask? That is a great question.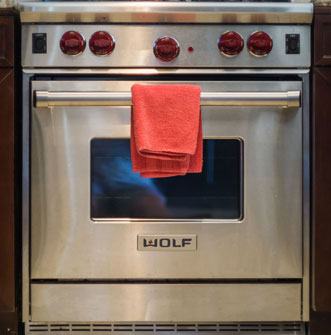 We enjoyed it, because after a very long and exciting day exploring the BVI we were absolutely exhausted. The last thing we wanted to do was get fully dressed and walk to dinner. Luckily, the Gourmet Market & Deli had us covered. The market is stocked with all the food essentials you would want! You can create anything from an artisan cheese platter to a semi-homemade spaghetti dinner.
Everything from pots and pans, to cutting boards to colanders are included in your kitchen set up. All you have to get is the ingredients from the market downstairs and "Ta-Dah,"dinner is served! I guarantee if you are an aspiring chef, you will also enjoy cooking on the Wolf range. The SubZero fridge keeps everything chilled or icy cold, perfect for stashing bottled water, juices, milk, yogurt and wine… lots of wine! I returned home wanting to renovate and create my own "designer kitchen" that would rival this resort's… but alas, that will remain a dream for years to come.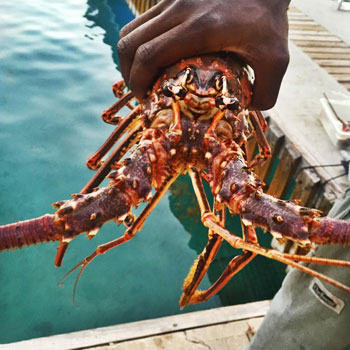 There are plenty of options when it comes to in-suite dining! You can always head over to Tierra! Tierra! before dinner and pick up a freshly caught Anegada Lobster. The Chef will either send you on your way with your pick or he can prepare the lobster to your liking. You could easily grab a few lobsters and a few sides from the market and have a gourmet meal on your balcony enjoying the Caribbean breeze.
Oh, I forgot to mention drinks. The Gourmet Market & Deli by the marina has a great selection of wine, beer and liquor, along with mixers. Shake up a mean cosmo or a refreshing margarita with everything you need right at your fingertips.
While going out is always an adventure, sometimes there's nothing more rewarding than staying in. Starry nights overlooking the Caribbean Sea with your loved ones whilst dining on your private balcony makes going gourmet magical in many ways.