Scrub Island Resort Earns Wine Spectator Award For Wine Program at Cardamom & Co.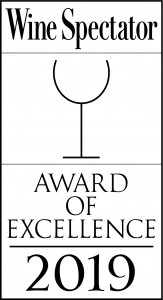 BRITISH VIRGIN ISLANDS (July 3, 2019) – Scrub Island Resort, Spa & Marina, a AAA Four Diamond resort in the British Virgin Islands, has earned the prestigious Award of Excellence from Wine Spectator for the spectacular wine program at the resort's signature fine-dining restaurant, Cardamom & Co. The Wine Spectator Restaurant Awards is an international competition that honors restaurants from all over the globe with the best wine lists.
"Our team at Cardamom & Co. has worked tirelessly to make significant improvements to our culinary offerings, including our impressive wine list," said Scott McArdle, general manager at Scrub Island Resort. "It's an honor to be recognized by this prestigious publication which truly highlights the priority we place on delivering quality products and memorable experiences for our guests."
The Wine Spectator Awards began in 1981 and covers three levels: the Award of Excellence, the Best of Award of Excellence and the Grand Award, which is the highest honor. The Award of Excellence recognizes restaurants whose wine lists feature a well-chosen assortment of quality producers. Best of Award of Excellence recipients offer extensive wine selections with significant vintage depth and excellent breadth across multiple regions. This year's winners will be featured in the annual dining guide in the August 31, 2019 issue of Wine Spectator.
In addition to its award-winning wine list, Cardamom & Co. has also enhanced its menu with the local flavors of the Caribbean. With outdoor lounge seating and breathtaking views of the marina and neighboring islands, Cardamom & Co. now offers a variety of new dinner options, from fresh seafood specialties such as 10 Spice Seared Snapper and Fresh Lobster Tail, to Cardamom Roasted Duck Breast and Fig Glazed Rack of Lamb. Dinner service at Cardamom is available seven days a week from 5:30 to 10 p.m.
Scrub Island has been honored with numerous awards in recent years, including #1 Best Hotel in the BVI by U.S. News & World Report, TripAdvisor's 2019 Certificate of Excellence Hall of Fame, the Four Diamond Rating by AAA, Luxury Beach Front Hotel of the Year in 2017 by Virgin Islands Luxury Travel Guide, 500 World's Best Hotels by Travel + Leisure and more.
For more information on Scrub Island Resort, Spa & Marina, call (877) 890-7444 or visit www.scrubisland.com.
###
About Scrub Island Resort, Spa & Marina, BVI
Scrub Island Resort, Spa & Marina is named after its location, a serene 230-acre private-island haven situated at the east end of Tortola in the British Virgin Islands. A luxury, AAA Four Diamond hotel and the first member of Marriott's Autograph Collection in the Caribbean, the resort is tucked into a rugged cliff overlooking the Atlantic Ocean, Caribbean Sea and neighboring islands. It features 52 guest accommodations as well as a collection of two-, three-, four- and six-bedroom villas, the intimate Ixora Spa, world-class restaurants, two private beaches and a 55-slip marina. The resort marina offers exhilarating excursions through Dive BVI, sailing certifications with Offshore Sailing School and is the base of operations for Dream Yacht Charter, the world's leading charter company. For more information, call toll free U.S. (877) 890-7444 or visit scrubisland.com.
About Mainsail Lodging & Development LLC
Mainsail Lodging & Development is a Tampa-based hospitality company that develops and operates lodging products in the Southeastern US and the Caribbean. Their property portfolio includes four Autograph Collection Hotels: Scrub Island Resort, Spa & Marina (ScrubIsland.com), a private island resort in the British Virgin Islands; the boutique, food-focused Epicurean Hotel (EpicureanHotel.com) in Tampa, Florida; Waterline Marina Resort & Beach Club (WaterlineResort.com) on Anna Maria Island, Florida; and the historic Fenway Hotel (FenwayHotel.com) in Dunedin, Florida; as well as Mainsail Beach Inn (MainsailBeachInn.com), a boutique beachfront hotel on Anna Maria Island, Florida. The company also operates corporate housing throughout the Southeast, exclusively managing the Florida, Georgia and Tennessee markets for Oakwood Worldwide® under both its ExecuStay® (ExecuStay.com) and Oakwood® (Oakwood.com) brands. Mainsail Lodging also manages a portfolio of private vacation homes through its Mainsail Vacation Rentals (MainsailVR.com) brand and is a select partner of Homes & Villas by Marriott International. Additional future projects include Luminary Hotel & Co. (LuminaryHotel.com) in Fort Myers, Florida; a 128-room Residence Inn in conjunction with an indoor sports complex in Pasco County, Florida; and a historic boutique hotel in Macon, Georgia. Mainsail Lodging's corporate charity is Feeding Tampa Bay, the largest food rescue and distribution organization in the community. Mainsail actively supports the cause through a variety of employee and guest programs ranging from packing and sorting at the warehouse, to annual events such as the Epic Chef Showdown. Learn more at MainsailHotels.com.
About Autograph Collection Hotels
The Autograph Collection is an evolving ensemble of strikingly independent hotels. Exactly like nothing else, each destination has been selected for its quality, bold originality, rich character and uncommon details. From near to far, iconic to historic, the result is an array of properties that is nothing less than unique, nothing short of collectively exceptional. For more information and reservations please visit www.autographhotels.com, or explore our social media channels to learn more about championing the independent spirit.
Facebook: www.facebook.com/AutographCollection
Twitter: www.twitter.com/Autograph