Private Island Dining on Valentine's Day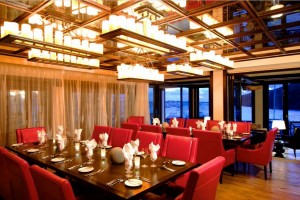 If you're looking to really WOW your valentine this year, how about treating them to a private island dinner for two? Sounds romantic! Caravela, Scrub Island's signature fine dining restaurant, is hosting a very special Valentine's Day dining experience. Whether you're staying on the island or island-hopping by boat, dining on a private island is a unique opportunity many dream of and few experience on Valentine's Day.
Wondering what's on the menu?
Begin your dinner with a choice of two starters: Cream of Asparagus Soup or Lobster and Tomato Bisque, both made fresh. Guests will also have their choice of a Caprese Salad or a Wedge Caesar Salad.
As for entrees … there's three delicious dishes to choose from; making it a very tough decision to choose just one. The first choice:Grilled Filet Mignon Red Wine Chocolate Demi, served with Lemon Zest Fresh Green Beans and Butter-Whipped Mash Potatoes. A hearty combination that finishes light and zesty, similar to a Caribbean breeze.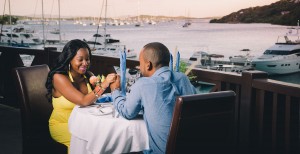 For guests looking for more of an entrée variety, opt for the Grilled Petit Filet Red Wine Chocolate Demi and Half Lobster with Drawn Butter. Served with Lemon Zest French Green Beans and Butter-Whipped Mash Potatoes.
Last but certainly not least, your third option leaves you with a delicious Roast Cornish Hen. Served with Rosemary Red Bliss Potatoes and Citrus-Grilled Carrots.
Don't forget about dessert! The best part about dessert is you don't have to choose one; you get both. Each guest will enjoy a dessert duo of the Chocolate Decadence and Red Velvet Cake.
Valentine's Day Dining is $75 per person (plus a service charge) and reservations can be made with the Scrub Island Resort Concierge by calling (284) 394-3440.
If dinner isn't enough, continue your night with cocktails from our Bar Manager, Xtian! His latest concoction, the Babooshka has sent BVI locals and Scrub Island Guests into a magical frenzy.