Rum Punch or Fruit Punch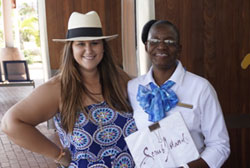 Yesterday, I had the pleasure of flying in to Scrub Island Resort, Spa & Marina and after settling in, and with only one day under my belt, I can tell you I have about a million stories already that I can't wait to tell you. The unique experiences, the genuine people, the compelling stories, the picturesque destination itself is so much more than I ever imagined.
I don't want to spoil it all in one blog though, so I plan to spread it out in many blogs for you. My goal, is to provide you with helpful insider travel tips and stories about the resort, British Virgin Islands as a destination, the wonderful people that work at Scrub Island Resort and do my best to help paint a picture, from my perspective, of what it's like to stay on our luxurious private island.
Let's start with the easiest way to arrive in the British Virgin Islands (B.V.I). Now, when you arrive in the B.V.I., you will most likely arrive by either Cape Air or Seaborne coming through San Juan, Puerto Rico (SJU). We arrived by Cape Air, which was a fantastic flight. It was about a 10-passenger plane and there were only four people on the flight, four including the pilot. I will expand on that fabulous experience in another blog later on. Anyways, once you make your way through customs, you are greeted by the lovely Carol who will be wearing a white shirt with the Scrub Island Resort logo and she'll have a clipboard. She is super sweet, she has a giant smile and she will ask your name, grab your luggage and get you in an air conditioned van that will escort you down to the docks by Trellis Bay.
Once you get to the Trellis Bay docks you are free to roam around. I highly recommend hanging out around the docks and exploring. There are a few local bars to grab drinks, food and great places for photo opps. The Scrub Island Resort Ferry Boat comes every hour (:45 minutes after the hour), so there is plenty of time to explore. Once you get on the boat, your luggage will be taken care of and you can sit back, relax and enjoy the short 10-minute ride across the crystal-clear, turquoise waters to Scrub Island Resort.
During your boat ride you will be asked if you prefer rum punch or fruit punch. I suggest rum punch! It is their signature drink and it is absolutely delicious! When you arrive at Scrub Island Resort marina docks you are greeted with a smile, by name and with an ice-cold rum punch (or fruit punch) topped with a red cherry and then escorted to the resort host desk, where you are checked in while you sit and sip your punch. As you are escorted to your room, you are given a brief tour of the island and all the amenities of the resort. Oh, and don't worry about your luggage, the friendly staff handles that for you. By the time you make it to your room, your luggage is there waiting for you.
Rum punch or fruit punch? The choice is all up to you. Honestly though, go with the rum.