Scrub Island Day Trip: Callwood Rum Distillery
Cane Garden Bay located in Tortola offers a fun and exciting day trip while staying at Scrub Island Resort. While the beaches at Cane Garden Bay are often coined as being unlike any other beach in the BVI, and a favorite to sunbathers and sailors, there are other wonderful reasons thousands of visitors every year flock to this area of Tortola. One being, the legendary Callwood Rum Distillery.
Fun Facts: Cane Garden Bay gets its name from all the sugar cane, which is still grown to make rum!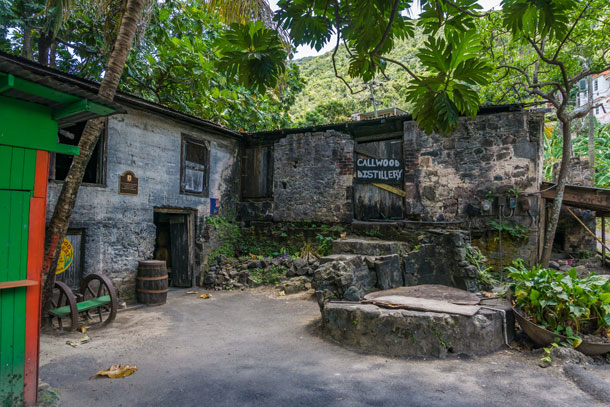 The Callwood Rum Distillery is said to be the Caribbean's oldest continuous pot distillery (around 400 + years). Located in the heart of the BVI, the old walls and equipment take you a step back into time. When you enter the distillery you immediately feel like you are reliving an ancient piece of history.
Although no one really knows how long the rum has been produced in the original Arundel Estate, what we do know is that the Callwood family took it over in the 18th century and for the last 200 years have continued to produce rum, claiming to be the the longest continuously operated pot distillery in the Caribbean.
The Callwood Rum Distillery is located within walking distance to Cane Garden Bay. When entering the distillery you may think you are in the wrong place, but you are in fact in the right place. Inside you'll find a run-down looking museum, small tasting area and retail store.
Insider Tip: They won't let you take any photos inside unless you purchase a bottle of rum or a flight for $2 which consists of four to five different rums. The first of the flight is a gold rum known as the "original" Arundel Cane Rum, next up a ten-year aged gold rum, third up Arundel White Rum, the Callwood Spiced Rum (the best tasting in my opinion) and lastly, a blended rum called the "panty dropper".
What makes Arundel Cane Rum different from other rums?
Arundel Cane Rum is made from pure cane juice, instead of molasses which gives it a very distinctive flavor. The labels look hand-crafted and give it a unique look to add to the already antique distillery. They make great gifts for friends and family back home.
Getting to Cane Garden Bay and Callwood Rum Distillery from Scrub Island Resort:
You'll need to hop on the Scrub Island Resort ferry and take it over to Tortola. There you can either catch a cab or you can call the front desk and arrange guided transportation ahead of time.