Scrub Island Supports Operation Cruise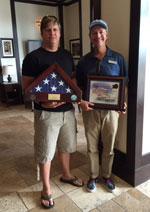 Scrub Island Resort, Spa & Marina is proud to support Operation Cruise, a non-profit that provides week long retreat cruises on mega yachts for wounded war veterans and their spouses or families who are struggling with the challenges of very serious injuries or illnesses to help them connect while giving them a trip of a lifetime.
Last week the team at Scrub Island Resort provided three veterans and their families a stop on our private Caribbean island. The war veteran's mega-yacht parked at our marina as one of their stops during their Caribbean island-hop for a fun-filled day that ended with a nighttime celebration. Our team put together a memorable day for our special guests. Our war veterans and their families spent a day enjoying all our private island resort amenities; like swimming in our multi-tiered pool with waterfalls, relaxing in the spa and then they had the pleasure of unwinding with a lovely reception that featured Caribbean entertainment and a private dining experience on North Beach.
Scrub Island Resort was honored to provide this retreat for those who selflessly served our country and look forward to participating with Operation Cruise on future projects.
Here's some more info on Operation Cruise…
Operation Cruise was formed as a way to give back to those who put their lives on the line in defending the freedom we enjoy freely. Operation Cruise operates in conjunction with the U.S. Special Operations Command Care Coalition, which provides support with recovery, rehabilitation, and reintegration for wounded Special Ops veterans and their families. Through the headquarters at MacDill Air Force Base in Tampa, Florida (which is also the home to our sister Autograph Collection property, the Epicurean Hotel). The Care Coalition has liaisons and licensed counselors at numerous bases around the world where active and retired Special Ops troops are present. These yachts are donated by generous donors and resorts, like ourselves donate their services, activities and dining experiences to honor our military war veterans and troops. The realities of war often leave wounds that have life-long effects, not only to the service member, but also impact his or her family. The pressure and stresses of these injuries can also cause tremendous strain on marriages and to their families. The focus for Operation Cruise is to provide these couples and families the opportunity to reconnect and strengthen their relationships during this special cruise. Each cruise provides a counselor experienced with Special Operations who can work with each couple to identify the obstacles they may be facing and help them develop the new tools necessary to strengthen their marriage.
If you or someone you know is interested in donating their yacht or you would like to learn more information on how you can support Operation Cruise, please visit: http://operationcruise.org
Stay tuned to our blog to learn how Scrub Island Resort, Spa & Marina continues to give back to our community in many other ways.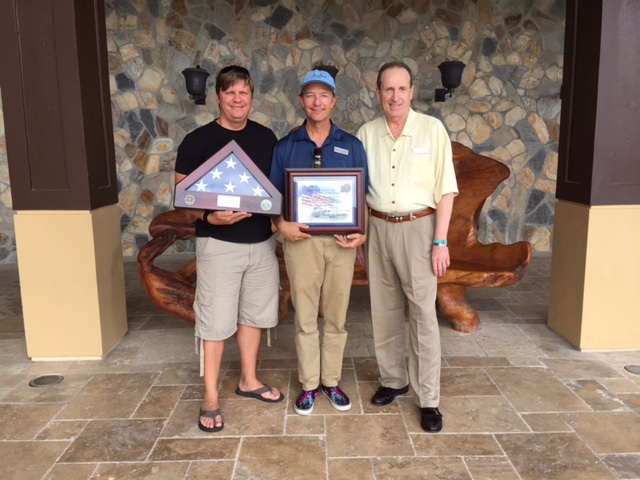 Photographed here is our guest from Operation Cruise and Scott Ward, Director of Sales and Marketing at Scrub Island Resort, Spa & Marina who was honored with a certificate flag flown on February 2nd at the U.S. Special Operations Command headquarters.