Spa-lah-lah: Relax and Recharge at Ixora Spa at Scrub Island Resort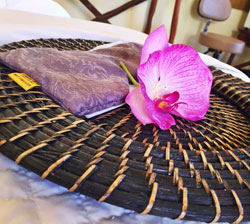 Busy days exploring the BVI and festive nights at Scrub Island Resort and Spa can leave you needing some serious TLC. There's no doubt that a little rest and relaxation with one of our fabulous spa treatments can offer you a chance to re-energize for tomorrow's adventure. This week, I featured three of my favorite spa treatments. I must admit it was challenging picking just three, so next week I will tell you about three more.
During my visit to Scrub Island Resort, I had the pleasure of checking out the newly renovated Ixora Spa. Perched in a secluded hillside villa overlooking the Marina Village and the crystal-clear waters of the Caribbean, Ixora features breathtaking views and steady trade winds making the art of relaxation relaxing a "breeze." Honored as a Top 10 Spa by Caribbean Travel & Life, Ixora Spa offers spectacular treatment rooms and relaxation areas that are guaranteed to calm your spirit, refresh your soul and re-charge your battery.
All of the products that are used are rich with antioxidants and crafted with natural botanicals and anti-aging formulations. A few of my favorite spa treatments include some that promote deep relaxation and help sleep come more easily. After a day of snorkeling for sunken treasure, kayaking to private beaches and hiking volcanic islands, your muscles ache and your body is in need of some extra pampering to help you sleep easier.
These spa treatments come highly recommended after a long day exploring: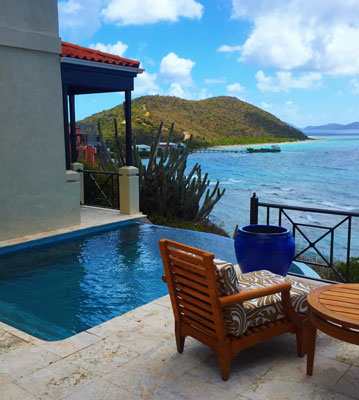 Revitalizing Aromachologie Massage: Guests will enjoy Swedish effleurage strokes, deeper-pressure Lomi Lomi and Balinese movements, combined with the properties of mint, pine and rosemary essential oils. This massage releases energy from all parts of the body. Feelings of fatigue or weakness simply disappear!
Shea Nourishing Comfort Facial: Produced by the women of Burkina Faso using traditional methods, Shea butter repairs, moisturizes and restores balance to dry or overworked skin. Massage further heightens these properties and stimulates microcirculation.
Signature Ixora Shea Body Scrub: Delicious textures eliminate dead skin cells, leaving skin perfectly prepared for a treatment or massage. Enhanced with the intoxicating scent of local jasmine flowers, this scrub will leave skin silky smooth.
To reserve your spa experience, guests can simply touch extension 1107 from their room or speak to a resort host. However, we recommend making your spa appointments before you arrive, so you get the treatments you want at your preferred time. For a full list of spa treatments and specials visit: https://www.scrubisland.com/spa
Insider Tip: Join Ixora Spa's Director, Denise Gordon-Morrison and Scrub Island's Executive Chef Juan Morrison for an evening of Wellness Cuisine and Beverages. The cost is $25 per person and reservations are required.