Suite Dreams at Scrub Island Resort, Spa & Marina
Everyone who goes on vacation dreams of having the perfect room that suits all their needs. When staying at Scrub Island, the "regular" guest rooms are super spacious with luxurious bathrooms and balconies offering views of the Caribbean Sea. So why, you may ask, would someone consider upgrading to a suite?
First, it's twice the square footage! A one-bedroom suite is almost 1,000 square feet. Since the average stay at the resort is more than four nights, the extra space becomes a wonderful plus as you can spread out and truly make this private island oasis your home.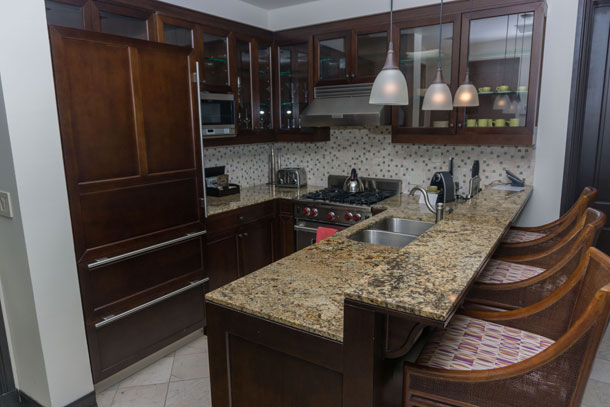 The gourmet kitchen! Yes, I know. You're probably thinking the last thing you want to do is to cook on your vacation. But it's really all about the convenience. Stock the SubZero refrigerator with juices, milk, cheeses, meats and yogurts from the Gourmet Market & Deli at the resort. Add cereal, coffee and wine to your cart… and Voila! You have breakfast, a couple of lunches and your cocktail hour all pre-arranged! No muss, no fuss stuff that you can enjoy in your suite. There's a great breakfast bar made out of beautiful granite, a dining table that easily accommodates four, and plenty of glassware, coffee mugs, china, flatware and all sorts of kitchen utensils. For those who want to dine in one evening and try their hand at making a proper dinner, there's also a Wolf range… these suites truly boast "designer" kitchens!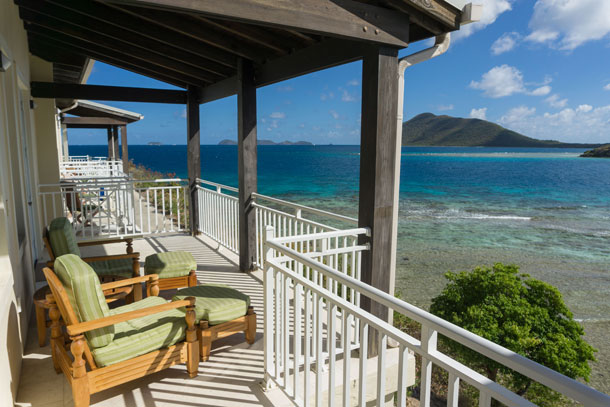 The balconies on the suites are massive. While two can sit on a regular room's balcony, there isn't room for much more. Meanwhile a suite balcony is fit for a king. Coffee in the mornings, cocktail hour at night or a picnic overlooking the marina… the suite balconies provide the perfect setting to stretch out and soak in the BVI lifestyle! One of my other obsessions with all the rooms is the Nespresso machines. I became accustomed to my morning ritual of making an espresso and sitting in the world's most comfortable robe on my ocean view balcony equipped with lounge chairs. I call it "the ultimate wake-up call."
Washer/Dryers in every suite will help streamline your packing. Big day out hiking? Drenched from island hopping? Why pack for a week when you can launder all your clothes? I ended up packing half as much, which left room for shopping and souvenirs!
Insider Tip: If you don't want to deal with bringing detergent or dryer sheets with you, don't worry, you can purchase these items at the Gourmet Market & Deli by the marina.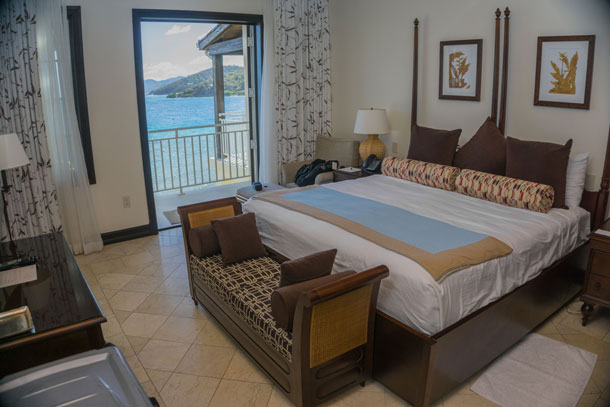 Unfortunately, when I got back home to reality I found myself espresso-less and having ocean view withdrawals. We slept every night with our bedroom doors open listening to the lapping waves and feeling those BVI trade wind breezes. And just so you know, the sound-making apps you can purchase for your phone do NOT sound anything like the real thing.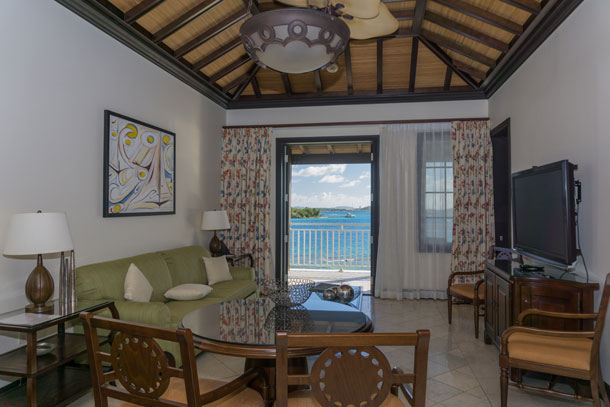 Get this – Scrub Island Resort is running a promotion where if you book your stay for three consecutive nights (before December 20, 2015),your fourth night is free. With a deal like this, why not treat yourself with a suite? Out of the 52 "rooms" the resort has, 26 of them are suites. So, don't wait on planning to upgrade when you get there. Because of their value and amenities, the suites sell quickly!
Now is the time to bask on three private beaches, get pampered in the award winning Ixora Spa, and soak in spectacular views of the Caribbean. You'll want to use Scrub Island as your base for all your BVI adventures. Suite Dreams await!