The Lowdown on the Caribbean – BVI Lobster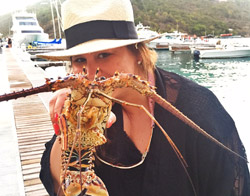 During my visit to Scrub Island Resort, Spa & Marina I was educated on something that is a very popular and delicious dish in the local B.V.I. culture, the Caribbean spiny lobster, known as the Anegada lobster. The reason for this is you'll see plenty of lobsters in and around the reefs of Scrub Island and throughout the B.V.I., but for the most part, they are protected. The legal fishing grounds for lobsters in the B.V.I. are located near the island of Anegada (Anegada actually stands for 'drowned land' which is another story for another day).
I have to admit, I consider myself to be a foodie, yet I had no idea that there were different types of lobsters (yes, queue the stupidity). Well, for those of you who are lobster connoisseurs, I applaud you and apologize as this post may be redundant; but for those of you who also had no idea, I hope to save you some embarrassment when you visit Scrub Island and you ask, "where are the lobster's claws?" like I did. You're welcome in advance.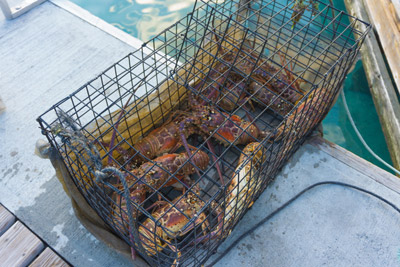 The Anegada lobster, also known as the Panulirus argus, (that's its fancy science name in case you were wondering) is a species of lobster that lives on reefs and in mangrove swamps in the Caribbean (any warm water climates). It is also one of the most popular entrées served fresh (cooked/grilled/served to your liking) to Scrub Island Resort & Marina guests daily!
There are many visual characteristics that set Anegada lobsters apart from the clawed lobsters we are used to seeing on the East Coast in the United States. For starters, Anegada lobsters have long cylindrical bodies that are covered with two large spines that go all the way to their eyeballs, forming two horns and two giant antennas. In the photos you will also notice they do not have pinchers or claws and are covered with beautiful cream-colored spots. Most of the meat is usually contained in the lobster's tails, because it has no claws. The clawed lobsters are usually found in cold waters in the east coast of the United States and Canada and also commonly referred to as the Maine lobster. These lobsters usually have big claws and carry a lot of delicious meat in them.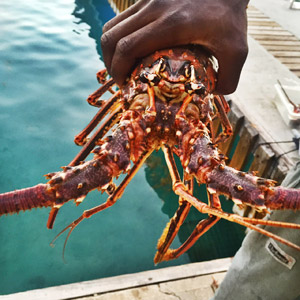 Like I mentioned, Scrub Island Resort is committed to serving our guests some of the finest and freshest seafood daily. If you walk the Marina docks and peek over the edge you can see some of the fresh Anegada lobster in lobster pots that have been delivered fresh (and still alive, moving and grooving) from two of our lobster fisherman that have been in the business for over 40 years. Guests can take a quick walk up to Tierra! Tierra! and pick out their live lobster and Chef will cook it any way our guest chooses.
Insider Scrub Island Resort Travel Tip: Scrub Island usually does their lobster pull every day around 5:30/6 p.m., at the Marina Docks. This is great chance to get the prime picking on your choice of lobster or a stellar photo opportunity with the kids. Hey! You can even hold the lobster… because, guess what? They won't pinch you! They don't have any claws!!!