Wednesdays are the New Fridays on Scrub Island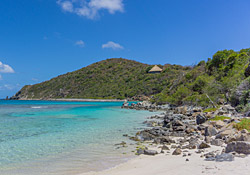 You can't make a trip to Scrub Island Resort Spa & Marina without spending a day or two at the picturesque North Beach. Located away from the resort in a protected cove all its own, North Beach is the ultimate dream come true for many guests, a quiet and private oasis.
While it is a great place to spend the day sipping colorful Caribbean cocktails crafted by my new buddy Kern (ask for the Kern's special- you won't regret it), the North Beach bartender, or choosing to relax by the dazzling pool, napping in your private oceanfront cabana, or indulging in a spectacular snorkeling adventure; it's also THE place to be on Wednesdays when the sun descends into the crystal-clear turquoise waters. Why? Oh, I'm glad you asked.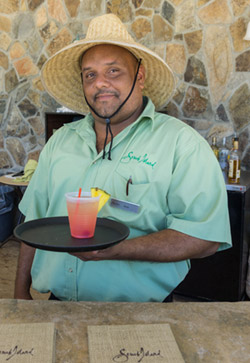 When the sun goes down, the stars come out and the reggae music sets the vibe for the Scrub Island North Beach Festival which happens every Wednesday evening at 7 p.m. Kick back, relax and prepare to feel like family. Take a seat around the fire pit; grab a complimentary mojito while the chef lights up the fire pits and prepares a special Caribbean feast that includes a Jerk Roasted Pig and BBQ Roasted Jerk Chickens.
Other dinner entrees choices include; Coconut Steamed Fish with Okra, Island Curry Stew Conch with Lima Beans, Jacked Baked Potatoes (Condiments: Bacon Bits, Sour Cream and Butter), Corn on the Cob, Mofongo, Salt Fish Cake and Johnny Cake.
There will also be a salad station that includes; Baby Mix Lettuce, Tomato Wedges with Onions, Jamaican Pepper Shrimp, Cucumber Salad and various dressing choices. Dessert choices include; Fruit Salad with fresh Strawberries and Marshmallow with Pound Cake.
The cost is $65 for adults/5 to 12 years $35/4 and under complimentary.
Reservations for the North Beach Festival are required, guests can see a restaurant or resort host for more information or visit this link for all the details