Xtian's Cocktail Corner: I Sea Sky
This week, Scrub Island Resort, Spa & Marina's beverage manager, Christian MacDonald (known as Xtian!) delivers yet another brilliant cocktail; I Sea Sky. This is one of the many vibrant cocktails guests look forward to experiencing in person when arriving to the BVI.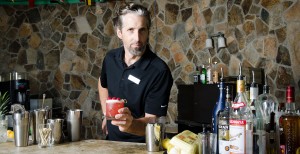 For those of you who have not had the pleasure of meeting Xtian, go ahead and add that to your BVI bucket list! He's a Canadian native and a 25-year hospitality veteran with a huge local following. Guests travel from all over to experience his over-the-top, yet downright-devious cocktails. He continues to mix things up with new cocktail creations each and every week.
His newest hand-crafted cocktail to hit the bars at Scrub Island Resort, Spa & Marina,is the I Sea Sky. Its turquoise-blue bottom blends in with the Caribbean waters and mixes things up with an exotic array of ingredients.
Lucky for you, Xtian was feeling generous enough to share his top-secret recipe: