Explore the Underwater Attractions of the BVI: Dive the R.M.S. Rhone
One of the most popular and most-requested scuba diving trips requested by visitors at Scrub Island Resort is the R.M.S. Rhone. Voted as the #1 wreck in the Caribbean by Sport Diver & Scuba Diving Magazines, this beauty is one dive that will be remembered and treasured by all who experience it.
Built in 1865, by the Millwall Iron Works of England. She was 310 feet long, had a 40 foot beam and weighed 2,738 gross tons. This Royal Mail Steamer had 253 first class, 30 second class and 30 third class cabins. Powered by both sail and steam, she was fitted with a 5CI hp compound steam engine that could push the vessel at top speeds of 14 knots. During her two years of service for the Royal Mail Steam Packet Company, the Rhone carried mail, passengers and general cargo. On her tenth voyage, the ship met her doom and at 11 a.m. October 29, 1867, the Rhone was lying at anchor off Peter Island when the ship's barometer began to fall fast and the sky turned black. As the wind and sea got wilder, Captain Wooley put her engines at full-speed ahead in an effort to ride out the storm. During this hour, a spar fell from her rigging; killing first officer, Mr. Topper. During a lull in the storm, Captain Wolley decided to weigh anchor to gain open sea, but while trying to hoist the vessel's 3,000 pound anchor, a shackle got caught in the hawser pipe and broke. Her anchor, plus about 300 feet of chain were lost. In an attempt to make a clean getaway, the hurricane swept back and hard, forcing her stern first onto the rocks of Tortola. The ship soon split in two taking with her 123 out of 145 passengers and crew to their watery graves.
Fast forward to today and the Rhone is a Marine Park designated "R.M.S. Rhone National Park." Her bow, mostly intact, and lying on its starboard side, rests in 90 feet of water and points north. Her foremast and crows' nest are intact and one of her cannons lie under some wreckage around 70 feet. The stern lies perpendicular to her bow and slopes up to shallower water, while the depth of the aft section rages 20 to 80 feet. Divers who visit rave about their experiences seeing portholes, winches, boilers, a large set of open-end wrenches, her propeller and bow sprit. This is a favorite for most divers, because every dive there are new treasures to discover or something they hadn't seen before.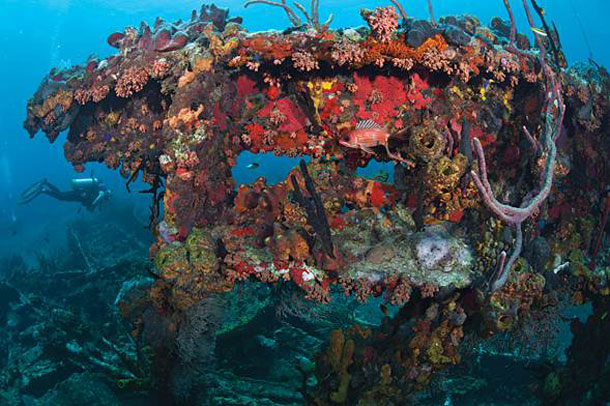 Insider Tip: To experience everything the Rhone has to offer, at least two dives are required. The first dive is 25-30 minutes at 75 feet on the bow section. After your mandatory 3 minute safety stop, you'll enjoy a nice surface interval. Keep your camera handy and your eyes peeled for sea turtles, starfish, lobsters, eels and other mysterious sea creatures.
Dive BVI, conveniently located at our Marina Village, offers scheduled trips to R.M.S. Rhone on Tuesday, Wednesday and Friday mornings (two tanks) from three different locations. They also run a special Saturday afternoon one-tank/snorkel trip. Night dives and special trips can also be arranged for other days, with advance notice.