Getting to Scrub Island Resort from St. Thomas (STT) or St. Martin
There are multiple ways to get to Scrub Island Resort, Spa & Marina. You can fly direct to Tortola (EIS), or you can connect through the U.S. Virgin Islands or St. Martin.
While we strongly suggest flying into Tortola through San Juan, Puerto Rico (SJU) as you will save valuable time, the other routes can offer potential savings and extra adventure with plenty of sights and photo ops along the way.
Catching the Ferry from St. Thomas
St. Thomas, located in the U.S. Virgin Islands offers three ferries daily. If you are coming from the airport or another town, you'll need to catch a short taxi ride to the Charlotte Amalie Ferry Dock. There you will catch one of the ferries (times are: 12 p.m., 2 p.m., and 4 p.m.). Be sure to leave some buffer travel time in between your flights and do not, I repeat… do not miss the 4 p.m. ferry. That is the last ferry to Road Town in Tortola for the day. You can find the public ferry schedules here: http://www.bvitourism.com/inter-island-ferries
Ferry Pricing
As far as pricing goes, the ferry ride ranges between $55 – $60 round-trip from Charlotte Amalie to Road Town in Tortola.
Insider Tip: Don't forget your passport! You won't need your passport traveling through the U.S. Virgin Islands, but once you get to Tortola in the British Virgin Islands, you'll need to clear Customs. Be sure to have your passport handy, it's required folks!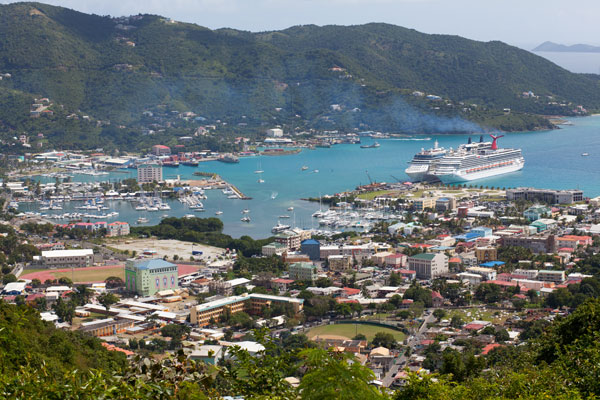 Arriving at Road Town in Tortola
Once you get to Road Town, you can either catch a taxi immediately or you can spend some time exploring. I recommend walking around some of the shops if you have time. Two other stops that are fun to explore are the J.R. O'Neal Botanical Gardens and Old Government House. As for the taxi rides, those rides cost approximately $27 one-way from Road Town to the Trellis Bay ferry docks, where the private Scrub Island Ferry is located.
Insider Tip: When the ferry nears Road Town, make your way immediately to the exit, so you'll be first to disembark. You don't want to be waiting in a long line at Customs… and they can get really long!
Arriving at the Trellis Bay Docks
Once you arrive at the Trellis Bay docks, you are almost home! Every hour, :45 minutes past the hour, the Scrub Island Resort ferry will arrive to take you to your luxurious private island. Also, the Scrub Island Resort ferry is complimentary for our guests and is only a 10-minute ride!
Insider Tip: Once you are seated on the Scrub Island Resort ferry, you will be asked if you prefer Rum Punch or Fruit Punch. Personally, I prefer the Rum Punch. When you arrive at the Scrub Island Resort docks, you'll be greeted with a smile and an ice-cold signature cocktail. Talk about making a grand entrance!
Coming from St. Martin?
We've got good news! Winair is now offering double daily service straight into Tortola. Once you arrive in Tortola (EIS),you will clear customs and be greeted by our airport concierge service. They will transfer you and your bags down to the Trellis Bay docks. This transfer is complimentary, but naturally your driver will appreciate a gratuity!