Grilled Anegada Lobster Recipe
A few months ago I wrote about my most delicious discovery of the Caribbean Lobster (aka Anegada Lobster) while staying at Scrub Island Resort, Spa & Marina.
In my insider tips I mentioned how Scrub Island Resort does their lobster pull at the Marina docks every day around 5:30/6 p.m. This is your best shot for prime dinner picking!
While some visitors prefer to have their lobster grilled to perfection at Tierra! Tierra! some sailors that come by boat prefer to have dinner at the Marina by their boats. If that's the case, I have done some research and pulled together the perfect recipe for Grilled Anegada Lobster. And good news is, everything you need is located conveniently on the island!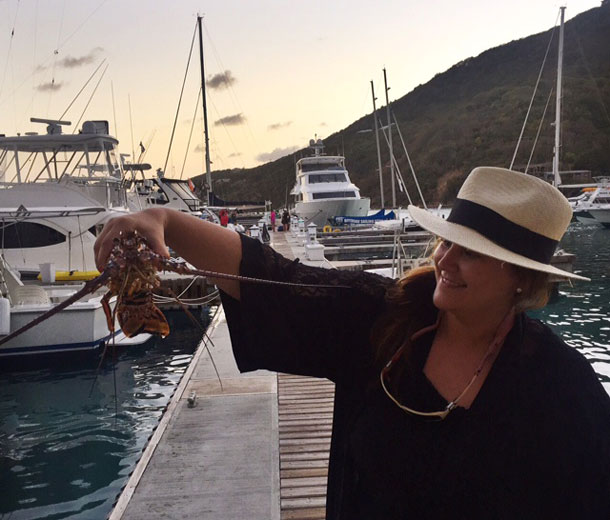 I prefer to you, a simple (and savory) recipe for the Grilled Anegada Lobster!
Here's what you'll need
1 whole Caribbean Lobster
2 Tbs butter, melted
1 clove garlic
Salt & Pepper
1 lemon wedge
Aluminum Foil
*Grab the lobster from Tierra!Tierra and the other ingredients are conveniently located at the Gourmet Market & Cafe located in Marina Village
Directions:
Mince garlic and mix with melted butter.
Split the fresh lobster in half, from head to tail, and clean out the entrails. Fold aluminum foil around the shell only to protect it from the heat. Place the lobster halves on the barbecue, foil side down, over very hot coals. Bathe the inside with garlic butter and season with salt & pepper.
Cover the grill for approximately 15 minutes. Depending on the size, the lobster will take between 15 to 30 minutes to cook.
The lobster will be ready when the flesh is no longer opaque and comes away easily from the shell.
Enjoy!
Have anything else to add? Leave a comment and let us know how you prefer your Caribbean lobster prepared.