Scrub Island Welcomes Marina Eye Candy, Luxury Mega Yachts
Scrub Island Resort, Spa & Marina is no stranger to hosting some of the largest and most popular mega yachts in the country.
And since we're located in the sailing capital of the world, we consider our marina as a jewel in the sparkling Caribbean Sea. Scrub Island Resort's Marina offers 55 deep-water slips for short-or long-term docking, including five specifically for mega-yachts up to 160 feet in length.
Have you ever wondered what mega yachts we've had the pleasure of hosting? Here are a few we found on the Marine Traffic website (An awesome website where you can look up boats and find them on a map!).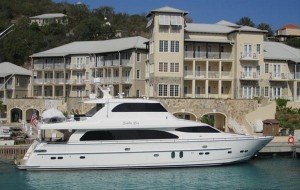 Debbie Lou
Debbie Lou is a 25.91m luxury yacht built by Horizon in 2006. She accommodates eight guests in the master, along with two double and twin cabins and is powered by Caterpillar engines. She can go at a max speed of 24kn and has a cruise speed of 18kn. Debbie Lou's elegantly traditional, and contemporary interior design is what sets this yacht apart from others. Check out this magazine feature by Show Boats International for photos and more details on Debbie Lou.
Beach Girl
Beach Girl is a 39.62m luxury yacht built by Westport in 2008. This superyacht is able to sleep ten overnight guests in a master, VIP, double and twin cabins with a crew of seven. The interior features a satin cherrywood finish and the interior design and decor is beautiful. To check out photos of Beach Girl, check out this link.
Solo Tu
This 100ft custom motor yacht was built by Hargrave in Taiwan, Province of China at their Kaoshiung shipyard, she was delivered to her owner in 2010. She comfortable accommodates up to eight guests overnight in four cabins, which features a master suite and three double cabins. She can carry up to a five crew onboard in three cabins to ensure a luxury yacht experience. Her top speed is 21 kts with a cruise speed of 18 kts. Our favorite feature? a marble encased jacuzzi tub outboard on the starboard side. To take a look at Solo Tu luxury yacht click here.
Far Niente
Built by Moonen in 2006, far Niente offers spacious accommodation for eight to ten guests, which features a master suite, a double stateroom and two twin cabins with Pullman berths. Her interior offers a clean and contemporary style with comfortable seating, full bar and dining table. Her 16,400-fuel tanks help her go up to top speeds of 12kts and a range of 2800nm. Check out the photo gallery of the beautiful Far Niente here.
When you visit Scrub Island Resort, Spa & Marina there's no telling who or what luxury mega yacht eye candy you'll see; but you are sure to be impressed.To get more information about our Scrub Island Marina, visit our website here.