Take a Day Trip to Devil's Bay, in Virgin Gorda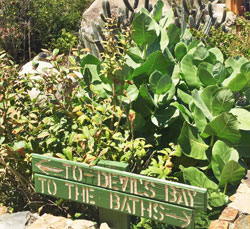 For those looking to explore outside of Scrub Island Resort, Spa & Marina, I highly suggest checking out the beautiful island of Virgin Gorda. Two of my favorite must-see attractions are located on Virgin Gorda and the good news is they are a short boat ride away from Scrub Island Resort.
There are two stops I recommend making at Virgin Gorda. The first is to the Baths and the second is to Devil's Bay. In my next blog post I will go into detail about the Baths, but this post is dedicated to the picture perfect beaches of Devil's Bay.
Getting to Devil's Bay from Scrub Island Resort:
There are a few options. You can take a chartered boat excursion by contacting the front desk, dock master at the Marina, or by visiting Dive BVI. You can also take the Scrub Island Resort complimentary ferry over to Trellis Bay and catch another ferry to Virgin Gorda for $35 per person, round trip. We took a private charter with Captain Raymond on board the Lady Kate 2 and it was amazing! I highly recommend the private charter if you can afford it, but Dive BVI offers incredible value, they have a terrific staff who are so knowledgeable, fun and accommodating.
Arriving to Virgin Gorda and how to get to Devil's Bay
When you arrive at the island of Virgin Gorda, there will be plenty of taxis waiting to pick you up by the docks. (Tip: You can also set up a tour or a ride to pick you up at Virgin Gorda by consulting with a resort host.)
The taxi ride takes about 5 minutes and costs anywhere from $3 – $5. Once you get up to the main entrance, you will see a large green sign at a small teller booth that says, Welcome to The Baths & Devil's Bay National Park. The cost for admission is $3 per adult and $2 per child (children 10 and under are free). You'll pay your admission and start your trek down the rock pathway to the beautiful oasis. There will be directional signage pointing you to go one way for the Baths and the opposite way to Devil's Bay. Right takes you to the Baths, left takes you to Devil's Bay.
If you are on a private charter, you can also ask your captain to take you directly to Devil's Bay. The only difference is there is no where to dock, so keep in mind you WILL get wet and you will have to swim to the beaches.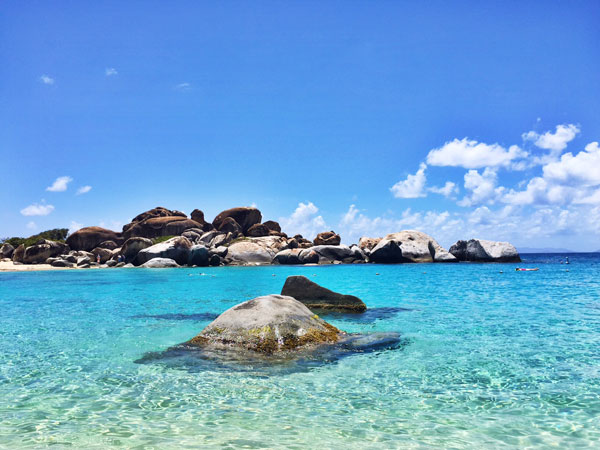 Insider Tip: If you are feeling adventurous and want to go through the Baths first, you very easily can. The trail through the Baths will guide you to Devil's Bay. There are also lockers by the Baths entrance, making it convenient to safely store valuables. Oh and bring a camera!
Once you arrive to Devil's Bay:
Welcome to paradise. Seriously, this was the most beautiful place I have ever experienced on earth! The water is crystal-clear and from far away looks turquoise blue and there is no doubt why they say it is the most beautiful beach in Virgin Gorda. The area is a little quieter than the touristy Baths area, and the long stretch of white sand makes for a fantastic place to sit and sunbath for a few hours. You can also bring your snorkeling gear to explore all the underwater attractions.
Stay tuned; my next blog will give you the scoop on the Baths at Virgin Gorda!