Take a Day Trip to the Baths, in Virgin Gorda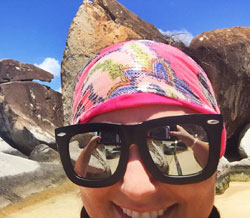 In my last post, I talked about taking a day trip to Devil's Bay in Virgin Gorda. In this post let's talk about the Baths, one of my favorite must-see attractions in the BVI.
If you are looking for a fun day trip, look no further than Virgin Gorda! Virgin Gorda is a short boat ride away from Scrub Island Resort. You can hit both attractions (the Baths and Devil's Bay) during your trip and there isn't an additional cost to visit both.
If you missed my last post about Devil's Bay, you can find it here: http://scrubisland.com/take-a-day-trip-to-devils-bay-in-virgin-gorda
The Baths in Virgin Gorda represent one of the most unique destinations in the BVI. The Baths were created naturally over time and are full of exotic pools and grottos formed by giant boulders. Plan to break a small sweat; the Baths are the perfect destination for explorers and photographers.
Fair Warning: be prepared. You'll be walking, climbing, crouching, and crawling through gorgeous all natural boulder caves. There's one rock that I found myself crawling through towards the end of the adventure called "break your back rock." I am now fully aware of why it is called that. Right when you think you are done crawling or crouching through, nope think again. If you stand up too quick your back will hit the rock. I can tell you from experience, this is not a pleasant feeling.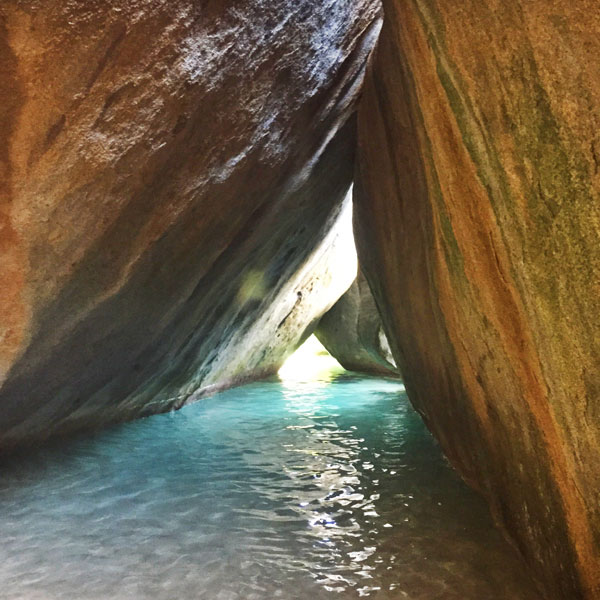 Insider Tip: My favorite area inside the Baths and the BEST place to take a photo is near the beginning of the trail inside the boulders. There is a spot where light peeks through the rocks and the crystal-clear water covers your feet. This would be a great spot to shoot your Christmas card and make all your relatives jealous.
Getting to the Baths from Scrub Island Resort:
There are a few options. You can take a chartered boat excursion by contacting the front desk, dock master at the Marina, or by visiting Dive BVI, located in the resort's Marina Village. You can also take the Scrub Island Resort complimentary ferry over to Trellis Bay and catch another ferry to Virgin Gorda for $35 per person, round trip. We took a private charter with Captain Raymond onboard the Lady Kate 2 and it was amazing! I highly recommend the private charter if you can afford it. The captains are not only professionals, but they are BVI locals which adds a special dimension to the experience.
Arriving to Virgin Gorda and how to get to the Baths:
When you arrive at the island of Virgin Gorda, there will be plenty of taxis waiting to pick you up by the docks. (Tip: You can also set up a tour or a ride to pick you up at Virgin Gorda by consulting a resort host.)
The taxi ride takes about 5 minutes and cost anywhere from $3 – $5. Once you get up to the main entrance, you will see a large green sign at a small teller booth that says, Welcome to The Baths & Devil's Bay National Park. The cost for admission is $3 per adult and $2 per child (children 10 and under are free). You'll pay your admission and start your trek down the rock pathway to the beautiful oasis. There will be directional signage pointing you to go one way for the Baths and the opposite way to Devil's Bay. Right takes you to the Baths, left takes you to Devil's Bay.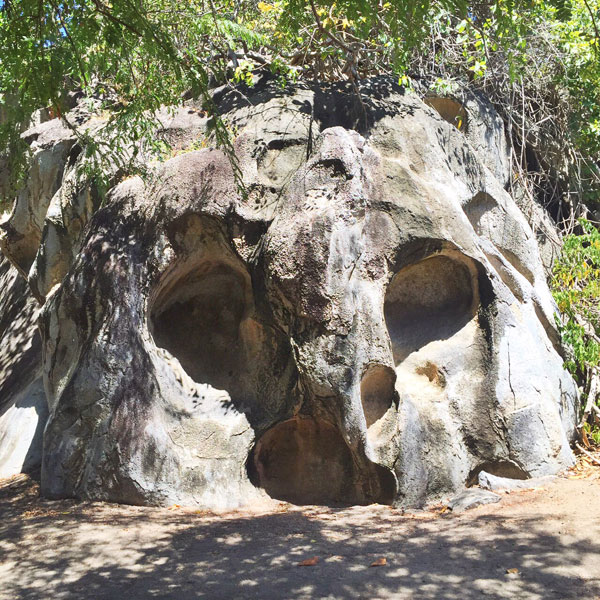 Once you arruve at the Baths:
After you pay your admission and take the walk down the path, you'll pass by a giant rock that has three holes in it. Stop and take a picture here. This famous, creepy and cool rock is called Skull Rock. There are stories that pirates created this rock, but some think it was created naturally. I prefer the pirate story myself! After the rock, you will see the main entrance area to the Baths. There are lockers located here to safely store valuables.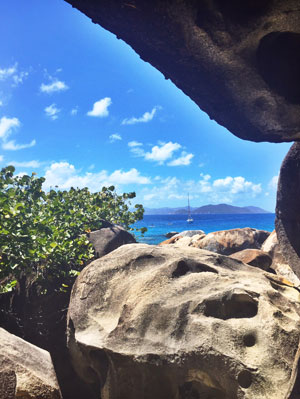 Insider Tip: There will be areas you could swim and will most likely get wet. I recommend just wearing your bathing suit and no shoes (unless you have special water shoes). I felt it was easier to climb along the rocks barefoot. You can bring a backpack, but honestly the backpack is just going to get in the way when you are trying to climb through the narrow areas between the boulders. Lastly, bring a waterproof camera or a camera that can hang around your neck. You will want to use both hands when climbing up some of the boulder areas (there are a few ropes you'll want to hold on to) and it could get damaged if you are crawling.
Insider Tip: Feel rewarded for all your hard work climbing, crawling and crouching through the Baths. The end of the Bath's trail will lead you straight to Devil's Bay, home to one of the most beautiful sandy white beaches of the BVI. After Devil's Bay, walk the opposite way through the Baths to return to the entrance area (shorter walk than the other directional signage path you'll see).
A trip to the BVI without seeing this amazing natural wonder would be unthinkable! Using Scrub Island Resort, Spa & Marina as your base for all the adventures is brilliant!