Wednesday Evenings on North Beach
A trip to Scrub Island Resort, Spa & Marina would not be complete without venturing out to the picturesque and private North Beach. North Beach provides a private oasis for guests who are looking to unwind off the beaten path from the marina and resort.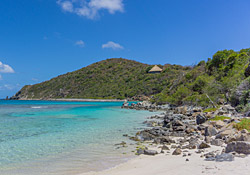 Located on a protected cove, North beach offers the perfect location to relax by the pool, sip on a cocktail from One Shoe Beach Bar & Grill, nap in one of the private oceanfront cabanas (Insider Tip: Get there early to claim yours!) or explore the depths of the Caribbean on a spectacular snorkeling adventure. In addition to all these wonderful amenities, it also serves as the best spot to be on Wednesday nights! As the sun descends into the crystal-clear turquoise waters, the stars come out and the music sets the vibe for the Scrub Island North Beach Festival — a must see and do during your stay on the island.
Every Wednesday at 7 p.m. you're invited to kick back, relax and enjoy the tunes of the steel drum by "Pan Vibes" and sip on complimentary rum punch and mojitos. You'll want to snag a spot around the fire pit as the Chef prepares a Beachside BBQ Buffet with Caribbean fixings.
Reservations for the North Beach Festival are required and guests can contact the concierge to reserve their spot. The cost is $65 for adults. Children (5-12 yrs. old) are $35 and 4 and under are free.