Where to Golf in the BVI
Strangely enough, there is no golf to be played in the British Virgin Islands. Good news is the Caribbean-Island Hopper system makes it easy to travel between the BVI and the U.S. Virgin Islands — making it a reality for any guest who wants to spend a day out on the golf course.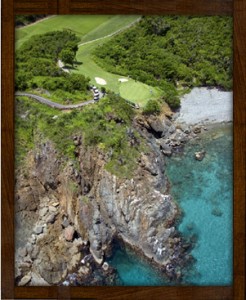 If there isn't anywhere to golf in the BVI, where's the closest golf course?
The Mahogany Run Golf Course encompasses 110 acres on the scenic North shore of St. Thomas in the U.S. Virgin Islands. The course is not only beautifully scenic, but it's also wonderfully challenging and Caribbean golf at its finest.
This 6,022-yard, par-70 course, designed by George and Tom Fazio, offers 18 of the most beautiful holes in the Caribbean and welcomes thousands of golfers, non-golfers, celebrities and presidents alike — to its challenging Bermuda grass fairways and lush Seashore Paspalum greens.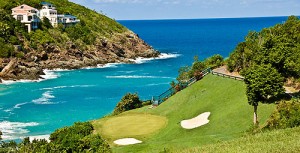 This awe-inspiring course includes the world-famous Devil's Triangle, a three-hole stretch of the 13th, 14th and 15th hole. This hole trio is not to be taken lightly, as it's sure to challenge even the best of golfers. The par-3 14th hole is situated 200 feet above a rocky inlet of the Atlantic Ocean offers some of the most breathtaking views of the neighboring U.S. and British Virgin Islands.
Interested in hitting the links during your stay at Scrub Island Resort? Your dedicated Scrub Island Concierge will happily assist you in securing tee times and rentals for your round of golf, as well as organizing transfers to and from the course — either by helicopter transfer, private boat charter, or using the BVI ferry service.