Who has the BEST Painkiller Cocktail in the B.V.I.?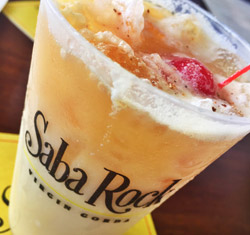 What is a Painkiller cocktail? Ah, the question that continued to linger in my head until I reached the British Virgin Islands. It is absolutely the most popular drink you will see in every single establishment in the B.V.I. Every bar and restaurant serves it like the United States serves water with lemon.
A traditional Painkiller cocktail is a rum cocktail trademarked by Pusser's Rum. If you ask anyone on the islands, everyone has their own story and their own interpretation. It is the signature drink of the islands!
The traditional Painkiller recipe calls for:
4 parts pineapple juice
1 part cream of coconut
1 part orange juice
Mix all the above ingredients well, shake and serve over rocks with a generous amount of fresh nutmeg on top.
As far as the rum goes, this is where it gets tricky. It can be made with two, three or four ounces of Pusser's dark rum (depending on your taste and where you are at).
Like I said before, everyone has his or her favorite story about where the Painkiller cocktail originated. Most people say that the original Painkiller was created in the 1970's at the Soggy Dollar Bar on the island of Jost Van Dyke in the British Virgin Islands. Some of the locals also told me that it's a bunch of bologna, and Soggy Dollar Bar is just known for it, because of the amount of nutmeg they put on top. I would say the jury is still out for the B.V.I. BEST Painkiller Cocktail. Or is it?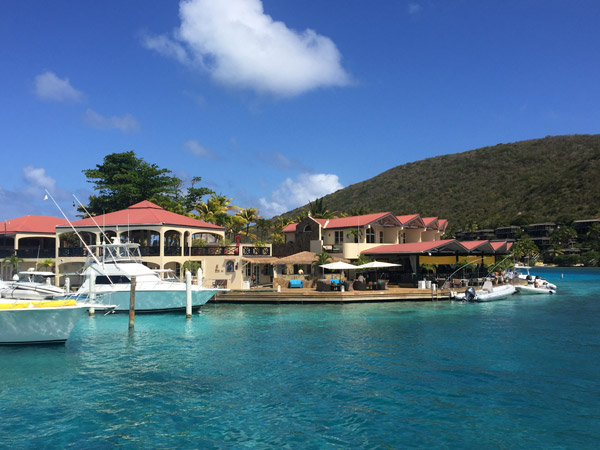 My first Painkiller cocktail was at Saba Rock, located not far from Scrub Island Resort. We took a quick charter boat from Scrub Island's Marina docks to a bar and restaurant that was literally built on top of a giant rock. It was a really cool experience and a great spot for someone looking for a fun day trip or a quick stop after visiting The Baths at Virgin Gorda.
My Painkiller cocktail was delicious! I loved the creaminess and nutmeg concoction they whipped up. One thing is for sure; they do not play around with cocktails on the islands. After two, or was it three? Four? Uh oh. Everything started to get a little blurry.
I tried my second Painkiller on the beach at Cane Garden Bay the next day. Comparing the two, Saba Rock still has my vote as my favorite Painkiller cocktail in the B.V.I.
Now, I know that isn't much Painkiller cocktail testing to go off of, but my future travel plans do include coming back to the B.V.I. to visit Pusser's and Soggy Dollar Bar to do additional research.
Let us know where you think the BEST painkiller Cocktail is in the B.V.I.