BVI Guests Lusting Over Xtian's Babooshka Cocktail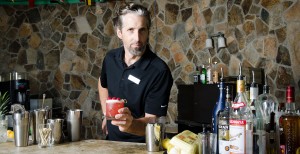 Our very own Scrub Island Resort beverage manager, Christian MacDonald (known as Xtian!) has delivered yet another vibrant cocktail just in time for Valentine's Day. To understand his detailed concoction you must understand Xtian. Xtian is a true legend in the BVI. He's a Canadian native and a 25-year hospitality veteran with a huge local following. Guests from all over the BV travel to see him and experience his over-the-top, yet downright-devious cocktails! And each cocktail isn't complete without a wild story.
His newest cocktail to hit Scrub Island Resort is the Babooshka and it's driving guests wild. The drink is absolutely beautiful, yet its story has dark roots. Handcrafted with passion, this drink could be your next guilty pleasure.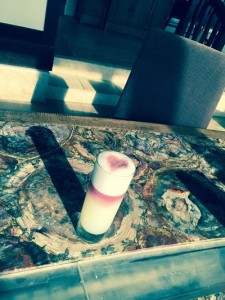 Ready to shake things up? Xtian combines Hendrick's Gin, rose water, orgeat, lemon juice and one egg white and shakes it well without ice to emulsify. Next, he adds ice and strains into a chilled collins glass. Topped with a splash or two of soda water. To signify the fine line between love and hate, Xtian then pours red wine over the back of a bar spoon and finishes his masterpiece with two spritzes of rose water; one over foam and another down the side of the glass.
Where would such a strong, yet bitter and sweet cocktail be created from? Well, within a true lover's imagination. Xtian created this cocktail with a story of a wife's desire to test her husband's loyalty. To do so, she takes on the nom de plume of Babooshka and sends notes to her husband in the guise of a younger women — something which she fears is the opposite of how her husband currently sees her.
The trap is set when, in her bitterness and paranoia, Babooshka arranges to meet her husband, who is attracted to the character who reminds him of his wife in earlier times. She thereby ruins the relationship due to her paranoia and thus the wine in the cocktail signifies the thin line between love and hate.
When's the last time you could envision a story inside your cocktail? Magical, isn't it? Come experience the famous Babooshka and meet the legendary Xtian for yourself at Scrub Island Resort, Spa & Marina!