The Story Behind Donovan's Lounge
Long before the days of Scrub Island Resort, Spa & Marina, the island was purchased by an American architect, Gene McManus. He fell in love with the island views along the Caribbean so much; he decided to build a home and a restaurant on it. The restaurant,Donovan's Reef, was a popular spot for many BVI locals and travelers for many years. 
Donovan's Reef was named after one of Gene's favorite John Wayne movies, Donovan's Reef. Although the movie was filmed in Hawaii on a Christmas movie set on a South Pacific Island, it's a light-hearted action/comedy that blends well with a similarity to the beautiful British Virgin Islands.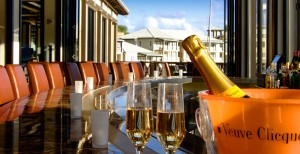 After Gene passed away, his wife and two twin sons kept the restaurant open until Joe Collier, President and founder of Mainsail Lodging & Development, visited the island on vacation with his wife in 2003.  Joe decided that he would purchase the island … and the rest is history.
Last week, Scrub Island Resort, Spa & Marina proudly opened Donovan's Lounge inside of Caravela Restaurant. Overlooking Donovan's Reef, it's the perfect tribute and perfect lounge name for an equally amazing cocktail list.
As far as handcrafted cocktails go, my favorites would be the French 75; London No 3 Gin, lemon juice and simple syrup topped with crisp and delightful champagne. If you're looking for Caribbean favorites, you can't visit Donovan's Lounge without getting a Donovan's;which features Captain Morgan Spiced Rum, tamarind syrup, pineapple syrup and ginger cubes — the perfect mix of what I call … Caribbean refreshing! For the sweet tooth, get your fill with a Butterscotch Martini or a Chocolate Martini. Regardless of what you order at Donovan's Lounge, incredible views of the aqua-marine blue Caribbean are included.